Being a farmer, you must have heard of farm gates. It's something that you ought to utilize to ensure your livestock's safety. Also, to add a charming vibe to your farmland.
But is that all? Are all farm gates designed to fulfil this exact purpose all the time? Technically, yes, though there's more to know about them.
Farm gates have been around for centuries, and now, they're an integral farm supply of any farm. With different types of farm gates to choose from, a farmer may purchase one based on the farm operation he would want to use it for. 
Therefore, this article will discuss how these different types of farm gates work and which one will be best for a farmer's needs.
---
Metal Gates
As a ranch or farm owner, you want to keep your livestock safe, allowing them the freedom to roam. And metal farm gates provide the perfect solution for this.
Metal gates are both durable and stylish. Not to mention, these gates can be easily customized to your property panels.
Although when selecting metal farm gates, keep in mind a few things:
Think about the metal types to use.
Consider the size, weight, and designated placement where you plan to install your farm metal gate.
Keep a fixed budget in mind.
If you are looking for some of the best suppliers of metal gates in town, you may consider tractor supply gates. They have a wide range of options available for their customers, though most ranchers prefer to use two primary types of metal farm gates: aluminum and steel.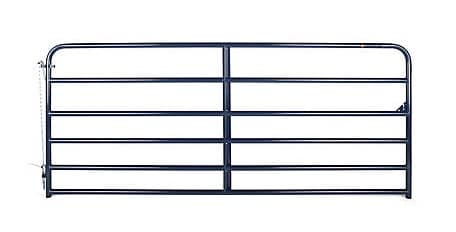 Aluminum
Aluminum is, so far, proven to be the best of all metal types for farm gates. They are more resistant to rust than steel. Besides, they are cost-effective, lightweight, and durable.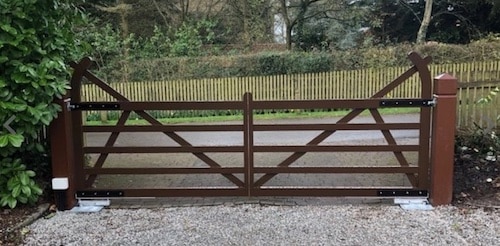 Steel
Contrarily, when it comes to resilience, steel is the ideal type. It offers a solution designed for heavy use in inclement weather. When we compare steel to aluminum, steel looks better aesthetically, while aluminum is the best for functionality.
---
Stock Gates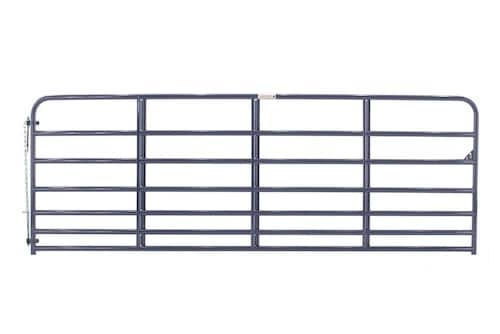 If you're looking for a durable and reliable farm gate, you should consider stock farm gates. Here are just a few reasons why:
They're built to last. Stock farm gates are made from rigid, weather-resistant materials that withstand years of heavy use.
They're easy to operate. Stock farm gates are equipped with simple latch mechanisms. So you can quickly close or open it even when wearing protective gear or carrying any loads.
They keep your animals safe. Whether raising cattle, sheep, or pigs, stock farm gates can help keep your animals safe and contained.
They're affordable. Stock farm gates are very reasonable compared to other types of farm gates.
---
Sliding Gates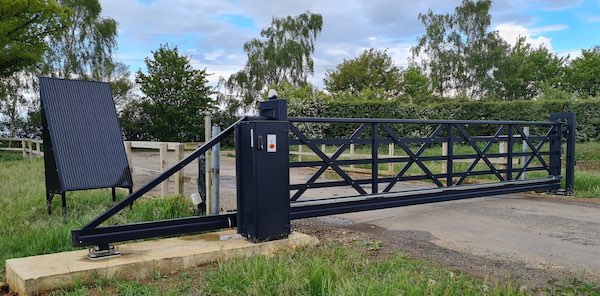 If you're looking for a reliable, low-maintenance way to secure your farm, look no further than sliding farm gates.
These gates are designed to withstand heavy use and are easy to open and close, even when carrying equipment or supplies.
They are also less likely to sustain damage from strong winds and inclement weather.
So, for a durable, convenient solution for your farm security needs, sliding farm gates are the way to go.
---
Tubular Gates
There are many benefits to tubular farm gates but also potential drawbacks.
The affordability and durability of tubular gates are among their most notable benefits. They can withstand a lot of wear and tear and are resistant to damage from hostile situations.
However, one downside of tubular gates is that their accessories can be hard to install. These gates can be difficult to open and close if they're not properly maintained.
If you have small children or animals, you'll need to be extra careful to ensure they don't get trapped inside. Also, they aren't usually the option with the most aesthetic appeal.
Overall, it's crucial to weigh all the factors before deciding to ensure that you choose the best option for your needs.
---
Panel Gates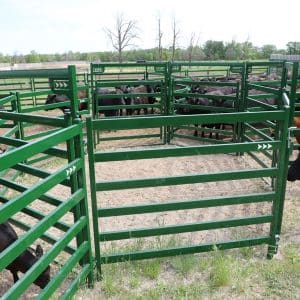 As a farmer, you know that panel gates are essential to your farm operation. But what exactly are they, and how do you choose the right ones for your farm?
Panel gates are a great way to provide security and containment for your animals. They may be put together fast and efficiently because they are interlocking panels.
These gates' versatility is one of its best features. You can use them to create temporary pens for new arrivals or to create permanent pens for your animals.
They can also divide up different parts of your land for other uses. For instance, you might use them to make a grazing area where your chickens can roam freely.
Panel gates are a great way to keep your livestock safe and your farm organized. You can get the best panel gates for your needs through some research.
---
Pipe Gates
If you are a farmer, you know that there are countless details to take care of. Your animals, your crops, the weather – it can be a lot to keep up with.
However, you may not have considered installing pipe gates on your farm.
Pipe gates are a great way to keep your operated farm safe and secure. You can use them to keep animals in or out of certain areas, and they can be easily moved around as needed.
Plus, they're very affordable, so they're an excellent option for farmers on a budget.
---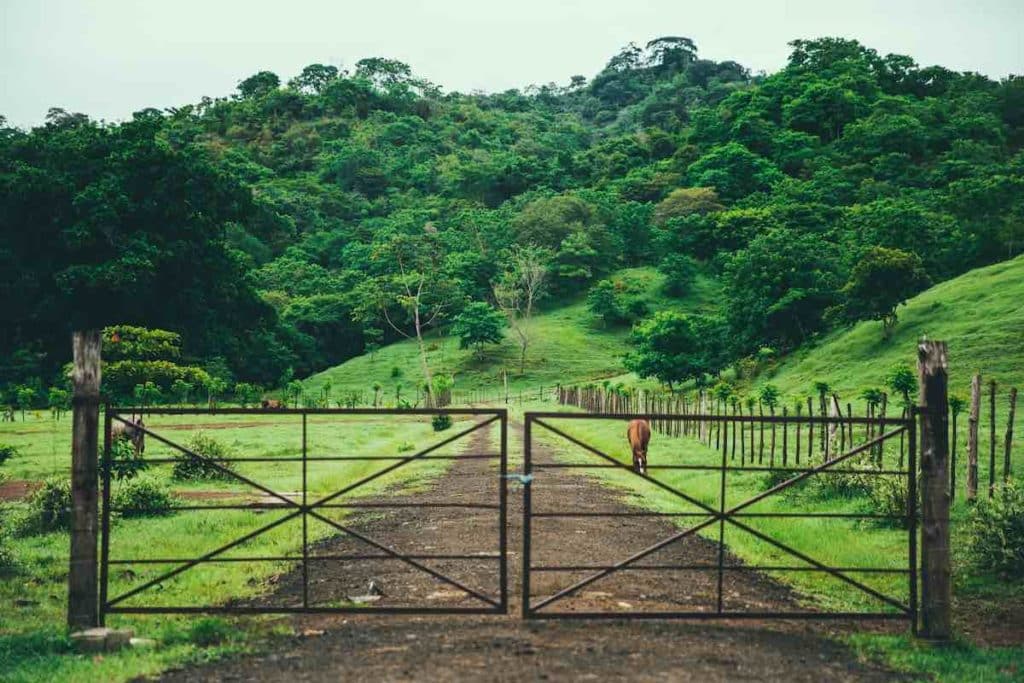 ---
The Best 7 Different Designs of Farm Gates
There are several sorts of farm gates available. Some are designed to allow animals to enter and exit quickly, while others are meant to prevent them from entering.
Livestock Gates
A typical livestock gate consists of four main components: a front panel, side panels, a door, and a latch mechanism. These components are usually manufactured separately and assembled into a single unit.
The front panel is the most visible part of the gate and is what the animal will see when approaching the gate. It is essential to have a durable front panel that the animals will not easily damage.
The side panels are on either side of the front panel and provide stability to the gate. They are also crucial in keeping the animals from escaping through gaps between the front panel and the door.
The door is the central opening in the gate through which the animals will enter and exit. It is vital to have a large enough door for the animals to pass through easily but not so large that they can escape.
The latch mechanism keeps the door closed and prevents the animals from escaping. Latch mechanisms come in a wide variety of styles. But it is crucial to choose one durable and easy to operate.
Field Gates
These gates make it simple for people, cars, or livestock to enter the field. They usually have one main entrance with multiple smaller gates leading off it. In addition to providing security, they help control animal movement.
The term "field gate" came about because of the shape of the opening. There is no standard size or style; however, most include some barrier across the opening to keep animals out while allowing people to enter.
Bow Gates
Bow gates come in two major varieties: swinging gates and sliding gates. These gates are primarily designed to be pre-installed on a rectangular metal frame. So, farmers don't have to go through a very tough installation process.
Swing gates are usually hung from a top rail, while slide gates typically have a bottom track. Both types of gates can be either hinged or spring-loaded.
Hinged bow gates are the simplest to design and build. They consist of two panels connected by hinges at the top and bottom.
The bottom hinge allows the gate to swing open, while the top hinge keeps it from turning too far. Spring-loaded bow gates are similar, but they have springs that help to close the gate.
Slide gates are more complex than swing gates. They can, however, close tightly against an entrance, which is a benefit.
They consist of two or more panels that slide on a track. The bottom panel is usually heavier than the top panel. So, opening the gate requires extra effort.
Cattle Gates
Cattle gates are a must-have for any farm with cattle. They prevent cattle from escaping through gaps in fences and keep other animals from getting into the pasture. They can be made from various materials, such as wood, steel, or concrete.
Kissing Gates
Kissing gates can be used for many purposes, including security, livestock containment, and access control. They frequently work in tandem with electronic fencing systems. The entrance, or kiss-lock, on the enclosure, makes it unique. It is a simple mechanism but highly reliable.
Tube Gates
Tube gates are one of the most popular livestock fencing used today. They offer many advantages over traditional wire fences, such as being easier to construct, less expensive, lighter weight, and having fewer moving parts.
These farm gates are often made of welded steel tubing. The welded joints provide strength and durability while keeping the gate light enough to handle easily.
Electric Gates
Electric gates are becoming increasingly popular on livestock farms. They're easy to operate and can be opened and closed remotely, making them ideal for farms with a lot of traffic.
They're also great for security purposes, as they can be programmed to only allow authorized vehicles and people onto the property.
---
---
Steel vs. Aluminum Farm Gates: The Primary Difference
Steel and aluminum, both metals, are great for making farm gates. But considering certain factors, these products feature a few primary differences, which are,
In terms of durability, Steel gates perform better, look aesthetically appealing, and require less maintenance than aluminum gates.
However, aluminum gates are more rust resistant than steel though. Therefore, they are more resistant to wear and tear with the ability to handle heavier loads.
Aluminum is also an excellent option if you want a lighter-weight, simpler-to-install solution.
Ultimately, the decision between steel and aluminum farm gates comes down to your specific needs.
If low maintenance is your priority, use steel. Aluminum is a superior alternative if you seek a less heavy solution that will last for years.
Pros of a Steel Farm Gate
Steel is a low-maintenance option. So, you can easily maintain them.
These gates are aesthetically appealing as you may design them any way you want.
You will also find steel a reliable option in terms of durability and affordability.
Cons of a Steel Farm Gate
One downside of these gates is that they are prone to rust very quickly.
Pros of an Aluminum Farm Gate
Lighter weight than the steel counterparts. So, you can move these frequently whenever needed.
They are more resistant to corrosion. This will be effective in areas where the gates are exposed to salt water or other corrosive materials.
You may customize its designs according to your liking.
Easy-installation.
Cons of an Aluminum Farm Gate
These gates are relatively more expensive than steel farm gates.
---
In Summary
While the only objective of outfitting a farm gate is to offer the best security for your livestock, their operating functions are different.
Different types of farm gates are designed to work differently. Therefore, this article has covered how each of these livestock gates works. We tried to explain why choosing the right farm gate for your farming operations is necessary.
We have also elaborated on the different designs of livestock gates that are best based on their affordability, durability, and usability. So, deciding which gates to buy for your farmland shouldn't be challenging.
You may further register for our newsletter to receive news about any upcoming changes or trends about farm gates. But till then, let's get to work on today's information and make your farm even safer than before.
---
Frequently Asked Questions about Different Types of Farm Gates
What is the standard farm gate size?
The standard farm gate size is a matter of debate. However, based on the modern parameters, the standard size for a farm gate is more than 14 feet.
What is a farm gate called?
Farm gates are also known as pasture gates or field gates. They come in various sizes, materials, and styles, but all have the same purpose: to keep animals in and pests or other dangerous animals out.
How wide should a field gate be?
The ideal width for a field gate depends on the farm's specific needs. It can range from 3ft. to 21ft. in width.
How tall is a farm gate?
A farm gate is typically between four and five feet tall. However, some gates may be taller or shorter depending on the size and type of farm. A taller gate may be necessary to keep larger animals contained, while a shorter gate may be sufficient for smaller animals.
What are farm gates made of?
Farm gates are composed of various materials, depending on the type of farm and the climate. The most often utilized materials are plastic, metal, and wood. Metal gates are standard in colder climates. They are durable and can withstand snow and ice. Wooden gates are more common for warmer weather use since they rust slowly. PVC gates are also becoming increasingly popular due to their