Sometimes, it's essential to create boundaries around our homes to ensure our beloved pets remain safe and secure.
The best dog gates enable you to designate off-limits areas for your pet, whether it's to protect them from newborns, guests, your bed, predators, or even for training purposes.
However, there are instances when a farm gate might be overkill for a situation that could be resolved with a baby gate. Baby gates offer a more economical solution, acting as an excellent farm supply, as they tend to be less expensive and easier to install.
These options are perfect for indoor spaces and smaller areas where a full-sized farm gate isn't necessary. Additionally, baby gates are often more lightweight and portable, making them a versatile choice for dog owners who need a temporary or adjustable barrier to keep their pets safe and secure.
These gates are also easier to install; simply lock them in place. They grant your dog more freedom while alleviating the responsibility of dog-proofing your entire space.
---
Best Dog/Pet Gates for Pet Owners
These are our top selections for the best dog/pet gates:
You can handle a large space with Regalo's Super Wide Adjustable Gate, a 28-inch-tall barrier stretching 192 inches.
You can use it as a doorway barrier or a pen as necessary, and it is easily customizable to match your needs. It's also big enough to work well as a temporary dog fence, perfect for trips!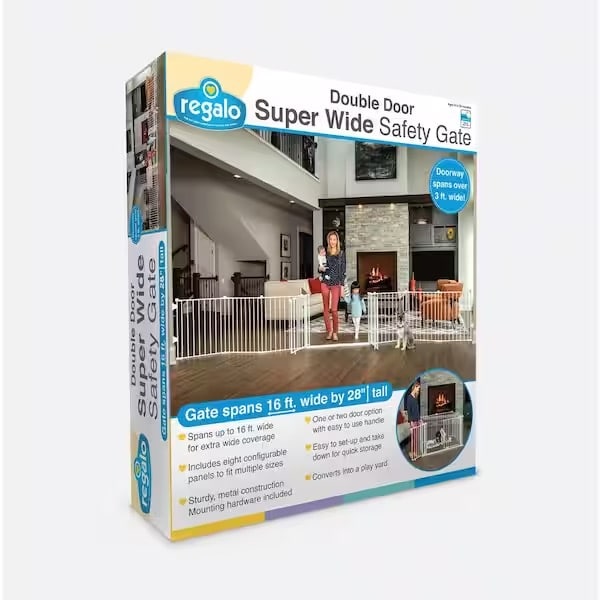 Providing a versatile way to keep your child and dog safe
Features durable all-steel components and a hardware-mount system ideal for large, angled or uneven openings
The super-wide gate can be expanded to fit openings 50.5″-192" and comes with eight, 24" panels
Pros
You may enter and exit as necessary through the locking system.
Custom coverage is possible with a fully adjustable dog gate for wide openings.
The vertical bar design prevents dogs that climb or jump over from escaping.
Cons
Some owners may find the size and quantity of the components daunting.
---
The Extra Wide Walk-through Gate with a small door from Carlson secures your dog without slowing you down.
Thanks to its locking access gate and gate frame and choice between wall installation and pressure mounting, you can use it safely throughout the house.
This 30-inch tall gate has extension panels that are easy to install. Each one connects to the main frame with a metal pin.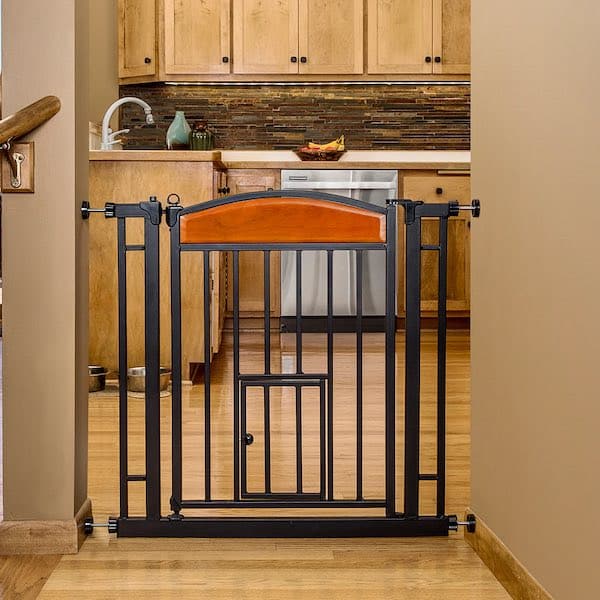 Cast-iron gate with wood accents keeps children and pets contained in safe areas, and can be opened with a single adult hand
Ideal for Children and Pets
Span: 30″ to 41.5″ Gate Height: 30″
Pros
The structure and latch of the gate received praise from the owners.
It's convenient to have the choice between pressure mounting and wall mounting.
The optional built-in cat door is extremely suitable for houses with multiple species.
Cons
Several owners worry that the gate is too small to pass through as some of the other gates.
---
The Toddleroo Extra Wide Wire Mesh Gate is a clear obstruction designed for easy and rapid use in doorways.
Thanks to horizontal and vertical wires, this 32-inch tall gate keeps even the smallest dogs from slipping through.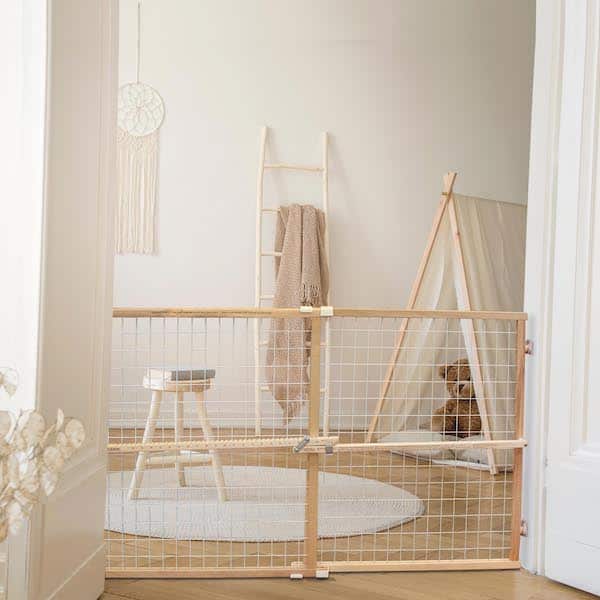 America's favorite play yard!
Perfect solution for homes with open floor plans or large spaces that need blocking off
Fits openings from 38 ½" to over 16' wide
Pros
You don't need to drill a hole into your borders or entrances because it is pressure-mounted.
The gate is quite reasonably priced.
Cons
Chewers find the wood structure to be quite alluring.
---
How to find the best dog gates
Consider your dog's size and the location where the gate will be installed. A gate that expands is necessary for a wide gateway.
A pressure-mounted gate must be built to span the full entryway; otherwise, its integrity could be damaged, leaving it weak in the middle and more likely to pop out.
Gates that automatically swing shut and lock are more convenient. A hands-free, easily swinging door is a practical choice in high-traffic places.
A metal fence is the greatest choice if your dog tends to chew, as plastic and wood can't withstand your dog's canines.
Consider the gate's installation strategy, design, construction materials, and intended purpose.
Height
Your pet's size, activity level, and how you want to move throughout the place will determine the ideal height for your pet gate.
Shorter gates are the right size for smaller breeds, and taller gates are for larger dogs. Some owners favor short, easily stepped-over models.
Particularly many pets need to be trained to respect boundaries. As it will be harder for your dog to jump over the gate as a puppy, it is ideal for installing it.
How easy was it to install
Depending on the gate type you buy, installation for a dog gate may differ. Besides mounting the gate, freestanding dog gates don't need to be installed.
Just assemble the gate and lock it in the place where it's necessary. Adjustable tension dog gates use a tension rod to keep them firmly in place inside a doorway.
As adjustable tension gates must be constantly removed and reinstalled, select one that is low enough to step over or has an inner hinged aperture so you can pass through the gate easily.
Style
These are the various dog gate styles:
Pressure-mounted gates: A middle ground between the two is pressure-mounted gates. Although they are lightweight and portable, they also provide much stability. These gates will feature adjustable spindles with a rubber stopper or rubber portions on the sides that touch the walls.
Freestanding gate: Most people prefer freestanding gates since they pose less of a threat to your walls. They are also simpler to relocate, which has both benefits and drawbacks. Your pet could be able to move the gate as well, depending on its weight.
---
Conclusion
Dog gates can define play areas, create a secure space for your dog when you have visitors, and for various other purposes.
Many people use gates to block off stairs or doors. The greatest dog gates will be the proper size for your dog and ideal for the specific use you will put them to.
When you first install a new gate, keep an eye on your dog, and don't forget to acquire a larger gate as your dog or puppy significantly grows.
---
FAQ – Dog Gates for Farm Owners
What is the difference between a farm gate and a baby gate?
A farm gate is typically larger, sturdier, and designed for outdoor use, while a baby gate is smaller, lighter, and intended for indoor spaces or temporary barriers.
How do I choose the right gate for my dog?
Consider factors such as your dog's size, the purpose of the gate (e.g., safety, training), and the area you need to secure (indoor or outdoor) when selecting the appropriate gate.
Are baby gates safe for dogs?
Yes, baby gates are generally safe for dogs, provided they are properly installed and the correct height and strength for your dog's size and breed.
Can I use farm gates indoors?
While it's possible to use farm gates indoors, they are usually more suited for outdoor use due to their size and durability. Baby gates would be a better option for most indoor applications.