Choosing the right tractor can make a significant difference in the efficiency and productivity of your farm operations. However, with so many different options available on the market, it can be overwhelming to decide which one is the best fit for your specific needs.
In this article, we'll take a deep dive into the multiple aspects you must think about before buying a tractor.
We will assess the various types of tractors available, their horsepower, optional attachments, and tools that can be used with them.
Additionally, we'll discuss how your land size and intended purpose for using it should influence your choice when selecting one.
Choosing the wrong tractor size can result in overspending or being ill-equipped for the tasks you need it for. That's why it's important to do your research and make an informed decision.
Whether you're a small-scale farmer or managing a large commercial operation, we've got you covered.
So, stick around to discover everything you need to know about getting the right tractor size for your farm, and more!
---
Tractor Sizes for Your Farm
Many different sizes of tractors are available to purchase. Everything from lawn and garden tractors to compact or utility tractors.
Horsepower is not correlated directly with the physical size of the tractor, you may get a smaller tractor with more power. Let's check out the different sizes below.
For smaller farms, a sub-compact size tractor can be adequate and is usually less expensive. These are perfect for tasks such as mowing, tilling, and light hauling of cargo or supplies around the farm.
For larger properties that require more power, a compact utility tractor will be a great choice. It will have better maneuverability and power for bigger jobs such as moving heavy implements like a hay baler, disc harrow, or a rototiller.
Generally, these tractors have more horsepower and larger wheel sizes compared to the sub-compact models.
If you have an extremely large farm with many acres of land, it may be necessary to invest in a large farm tractor. These are the biggest and most powerful tractors available.
They have superior power, features, and attachments that can handle the toughest jobs such as crop harvesting, snow removal, or logging.
---
Best Size Tractor for Acre Size
Picking the best tractor size for the acreage is recommended. Making sure you have a tractor that can work in tight spaces if working on your lawn or around the barn will make life easier.
Working out in the field will require a larger vehicle with greater power to get things done.
| Acres | Tractor Type | Horsepower |
| --- | --- | --- |
| < 5 | Garden Tractor / Sub-compact / Compact Utility Tractor | 20 – 30 |
| 5 – 20 | Compact Utility Tractor / Compact Tractor | 35 – 70 |
| 20 – 50 | Sub compact Tractor / Utility Tractor | 75+ |
| > 50 | High Crop Tractor | 125+ |
Overview of tractor type and horsepower needed for different acre sizes.
---
Best Size Tractor for Type of Work
Buying the best-size tractor for the type of work you will be doing on your farm is paramount.
Different tasks require different horsepower, attachments, and overall tractor size so it's important to make sure you get the right one.
| Type of Work | Tractor Type | Horsepower |
| --- | --- | --- |
| Landscaping | Lawn / Garden Tractor | 20 – 27 |
| Bale Hay Field | Compact Utility Tractor / Sub-compact Tractor | 35 – 70 |
| Dairy Farming | Sub-compact Tractor / Utility Tractor | 60+ |
| Crops | High Crop Tractor | 125+ |
| Commercial Farming | Commercial Tractors from the big makers, e.g. Mahindra & Mahindra, John Deere | 200+ |
Overview of tractor type and horsepower needed for different types of farming activities.
---
Types of Tractors for Your Farm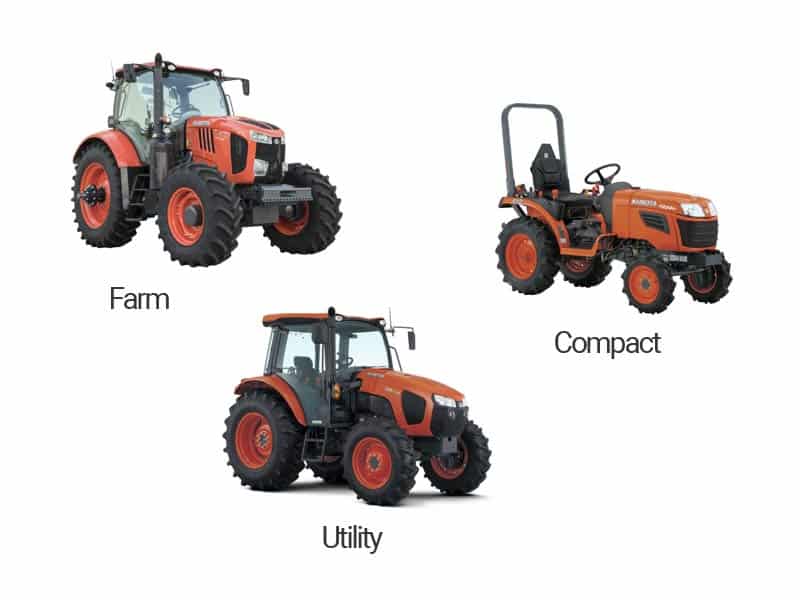 What type of tractor you need for your farm is down to the size of the area you will be working in and the type of work.
Let's look at some of the most common tractor types available.
Garden Tractors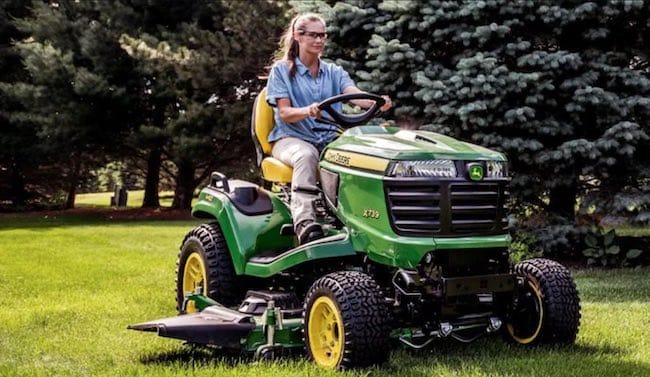 Garden tractors are typically for a large garden that would be hard to maintain on your own.
Utilizing a garden tractor will help you complete more tasks at a quicker pace.
Sub-compact Tractors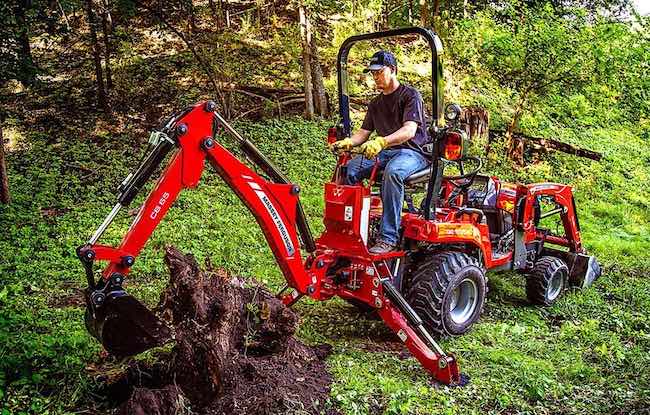 Utilizing a subcompact tractor for work in a small orchard, or large gardens to move large bales, snow removal, clean livestock pens, or in small farms is a great way to make your workload a lot easier.
Adding the right attachments to sub-compact tractors
Compact Tractor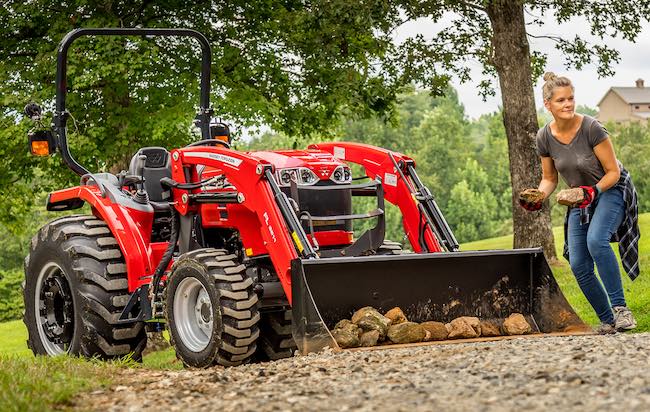 Compact tractors are used by property owners with small farms. Landscapers opt for compact tractors as they are a perfect size with enough pulling power for their required tasks.
Compact Utility Tractors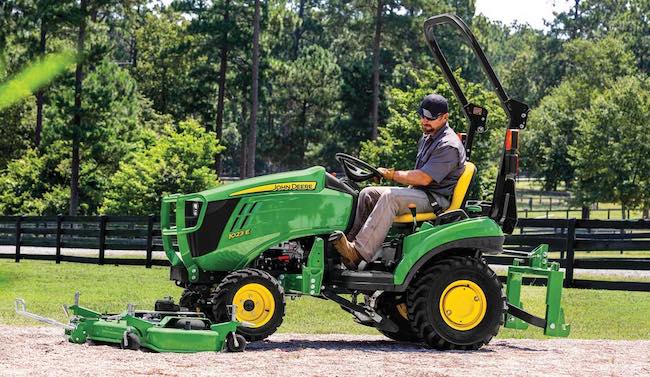 Compact utility tractors are ideal for farmers with a small amount of land to cover, versatile, and come with enough horsepower to complete most tasks on a large lawn or small property.
Utility Tractors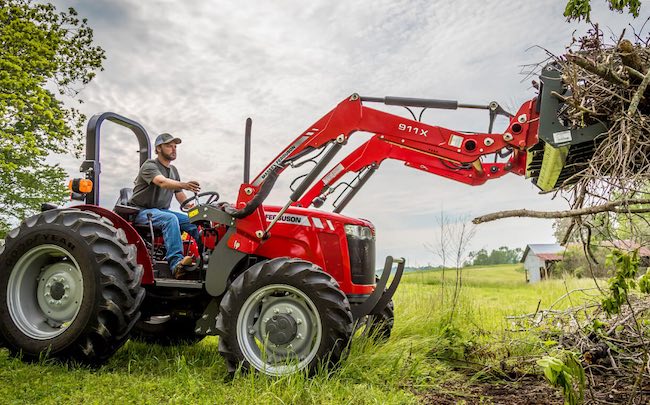 Utility tractors are smaller tractors but with extra horsepower. A smaller tractor with the maneuverability and a greater pull than a larger tractor make a utility tractor a popular choice for farmers.
High-Crop Tractor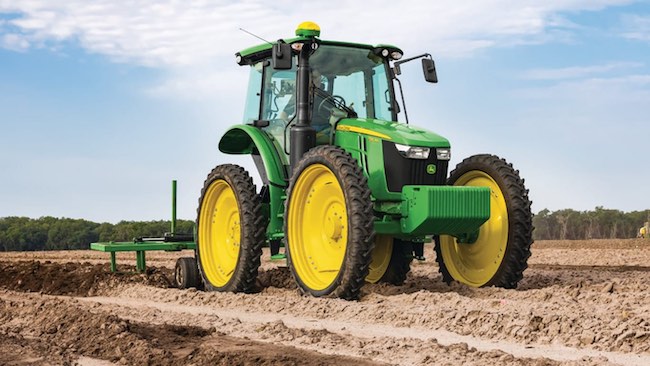 High-crop tractors are great if you have large areas of land to cover. Designed for a high clearance between the ground to protect your crops, the high-crop tractor is extremely versatile for a vehicle of its size.
---
Tips for Picking the Best Tractor Size for Farming
Following a few guidelines for picking the best tractor size for farming will help make your decision easier. Let's go through the most common ones:
Budget
Budget is the first thing that you will be taking into consideration when buying a tractor for your farm.
Small and older tractors will be cheaper, but you need the right size tractor for your farm. On-going maintenance, new parts, fuel, and other costs will also increase over time.
So, buying a second-hand or cheap tractor might end up costing more in the long run.
Engine
What type of agriculture activities will you be doing with your tractor? More horsepower is required for heavy chores, so what size of engine you require should be in correlation with the type of land/work you will be doing.
Engine horsepower ratings will differ greatly depending on the type of tractor.
A basic lawn tractor, a compact tractor, and a utility tractor will all have a different horsepower range.
With a large tractor that's designed for heavier work.
Loader Lift Capacity
Purchasing a front-end loader from the same manufacturer as the tractor is recommended. The lift capacity advertised is often not accurate and hard to evaluate accurately.
Speed is affected by the size of the tractor, so taking this and the capacity required should be taken into consideration.
Resale Value
How much you can sell your tractor for in the future is worth noting. Tractors need to be upgraded every few years as with most equipment.
Search online for the standard second-hand price of the tractor you are considering buying.
Comfort
How comfortable will you be using the tractor? Can you adjust the seat to suit your preferred sitting arrangement? What's the distance between the pedals and fenders?
These are just a few of the things you need to take into consideration before making your purchase.
Four-Wheel Drive
Tractors below 50 engine horsepower should be a four-wheel drive if carrying a front-end loader.
Going over the soft ground with extra weight on the front can cause the wheels to become stuck in wet ground.
One front wheel becoming stuck could result in the tractor rolling over, putting you in danger and potentially causing significant damage to your vehicle.
---
In Summary
What size tractor is best for your farm is dependent on many factors. Buying a new tractor is a large financial commitment, so you need to make sure you're getting your money's worth.
Types of tractors include utility, compact, sub-compact, and garden tractors.
What's your budget? Do you need a bigger tractor or a tractor with a smaller frame? Can you add pulling equipment? Does the tractor come with an optional cab? And, many other key specs should also be looked at.
The Video Summary
---
FAQ – What Size of Tractor Do I Need For My farm?
Selecting the ideal tractor for your farm can be a complex and confusing prospect.
To help eliminate some of the guesswork, we have compiled this list of FAQs to guide you in making an informed decision when it comes to horsepower, attachments, and other key considerations.
Here are clear cut answers addressing some of the most common questions about purchasing a tractor that will best serve your needs.
What factors should I consider when choosing the right tractor size for my farm?
Consider the size of your property, intended use, terrain, and type and number of attachments needed.
What type of tractor do I need for a dairy farm?
For a dairy farm, a subcompact tractor is the best type. Cows require frequent maintenance, including moving hay and removing manure. The number of cows determines the necessary attachments and tractor power.
Do all types of farms need a tractor?
All farms require a tractor for tasks such as moving dirt, hay, cattle food, and manure. Choose a tractor with heavier implements and more horsepower for larger properties, and a smaller tractor for smaller properties.
Should I buy a second-hand tractor for my farm?
Consider several factors before buying a used tractor for your farm. While it may save money initially, ongoing maintenance and replacement costs can add up. Evaluate the tractor's condition and frequency of use on your land.
How do I determine the horsepower and attachments required for my intended use?
Determine the weight and size of loads, type of terrain, and consult with a dealer or expert for assistance.
Is it better to buy a larger or smaller tractor, and how does the size of my property affect my decision?
The size of your property determines the tractor size needed. A larger tractor is suitable for bigger jobs, while a smaller tractor is easier to manoeuvre in tight spaces. Consider your intended use and budget when deciding between a larger or smaller tractor.