An automatic chicken feeder can be a great way to ensure your wild birds get the food they need. But with so many different feeders on the market, how do you know which one is right for your flock?
Therefore, this article brings you three of Amazon's best chicken feeder products. These best chicken feeders have been hand-picked by our editors after rigorous research to satisfy the needs of all farmers and backyard chicken keepers.
And not only that, but we have also added a few tips on choosing the suitable poultry feeder so that you can quickly identify the type of chicken feeder that meets your needs.
But, before we get into the specifics, let's get some ideas about the automatic chicken feeders.
---
What is an Automatic Chicken Feeder?
If you have hens, you may already be familiar with several feeders, including a DIY chicken feeder, a hanging poultry feeder, plastic feeders, and so on. But speaking of automatic chicken feeders, most of you are yet to be familiar with that.
So, what is an automatic chicken feeder?
Automatic chicken feeders are essentially poultry self-feeders, commonly referred to as treadle chicken feeder. This implies you can easily ensure that your hens are well-fed even when you're not around.
An automated or self-feeder for chickens consists of a container and a dispenser.
The container is where you pour the chicken feed and is generally connected to the coop.
The dispenser is connected to the hopper that dispenses the feed into the chicken coop.
There are a few different automatic chicken feeders, but they almost work the same way. You just need to make sure that you choose one that is the right size for your flock and that you clean it regularly to prevent mold or other problems.
---
Why Use an Automatic Feeder?
An automatic chicken feeder is a great way to ensure your chickens always have access to food, and there are several reasons why you might want to consider using one. Here are four essential points to consider:
Saves you time. If you're someone with a busy schedule, the last thing you want to do is spend hours every day manually feeding your chickens. With an automatic feeder, you can set it up once and then forget about it, knowing that your chickens will always have access to food.
Reduces feed wastage. These feeders are designed to dispense the perfect amount of feed for your chickens. Therefore, you can be sure they are getting the nutrition they need without waste. You can also get a chicken manure pellets machine to reduce waste.
Keeps feed dry and fresh. Mold and mildew can quickly ruin a batch of feed, but the food will stay dry and fresh if you use an automatic chicken feeder. The feeder will also remove any moisture or pests that might get into the food.
Ensures durability for a long time. These feeders are built to last and can provide your chickens with a steady food supply for up to six months.
What Size Feeder Do I Need?
When it comes to chicken feeders, size definitely matters. But what size chicken feeder do you need?
Here's a quick calculation guide to help you choose the right-sized chicken feeder for your flock:
To start with the calculation, you will need to know three things.
First is the amount of feeds chickens eat per day. Generally, adult hens eat about 4 ounces (0.25 pounds) of feed daily on average.
Second is the average frequency of refills. It's better to purchase a feeder that will only need you to refill once daily or weekly.
And the last one is the number of chickens to feed. The number can be anything from 4 to 10 chickens. You can quickly assess the feeder size you need based on the number of hens to feed.
Calculate the Feeder size
The average amount of feeds needed per chicken (0.25 Ibs)
x The number of chickens to feed (I.e., 4)
x Days to provide the chooks (i.e., seven days)
/ Frequency of Refills (i.e., two times per week)
= (0.25*4*7)/2 = 3.5 Ibs (approximately 4 Ibs)
It means the size of your chook's feeder should be 4 Ibs for four hens a week. So, if you purchase an 8 Ibs feeder, you will need to refill the feeder once per week.
---
Types of Chicken Feeders
Everyone wants a premium chicken feeder for their hens, but with so many feeder variables, it can be hard to decide the right kind.
As a result, here we go over some of the best chicken feeder specifics to assist you in finding an ideal fit for your backyard chickens or farm.
Automatic Feeders
An automatic chicken feeder is an excellent option if you're looking for an easy way to feed your chicken. These feeders can be programmed to dispense the perfect amount of food for your chickens. As a result, anyone can self-feed their hens without needing manual labor.
Hanging Poultry Feeders
Poultry feeders are available in all shapes and sizes, but hanging feeders are the best option for your flock. They keep the food clean and dry, away from rodents and other pests, and make monitoring your birds' intake easy.
Plus, these feeders are just plain handy. You can hang them anywhere, at any height, making them perfect for small and large flocks.
Gravity Feeders
If you are looking for an easy, cost-effective way to feed your chickens, then a gravity feeder is the way to go.
Gravity feeders are simple to set up and use. There's no need for batteries, motor, or other moving components for its operation. All you will have to do is fill the container with feed as it falls on the chicken coop due to gravitational force.
Trough Feeders
Trough feeders are another effective feeding equipment for your chickens. It provides a continuous flow of food, encouraging chickens to eat more and stay healthy. In addition, these feeders can help reduce the time you spend cleaning the chicken coop.
---
Our Top 3 Best Chicken Feeders
Enough of your chickens making a mess of their feed. Check out our top three chicken feeders that keep your coop clean and tidy!
Grandpa's Feeder: Automatic Chicken Feeder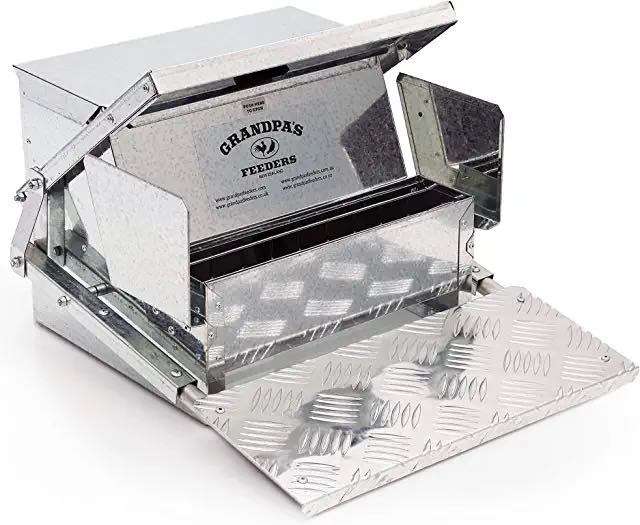 Grandpa's automated chicken feeders are made to withstand any extreme outside weather. It has a high-quality galvanized steel finish and a large feeding capacity to prevent your flock from fighting over food.
This incredible feeding gadget has been proudly sold for more than 20 years. Therefore, order Grandpa's automated feeders immediately if you're seeking one of the trustworthy options for a chicken feeder.
Pros of Grandpa's Feeder
Safety side guards.
Vermin and rodents protection.
9kg feed capacity.
Spoilage reduction.
---
RentACoop Automatic Chicken 25lb Treadle Feeder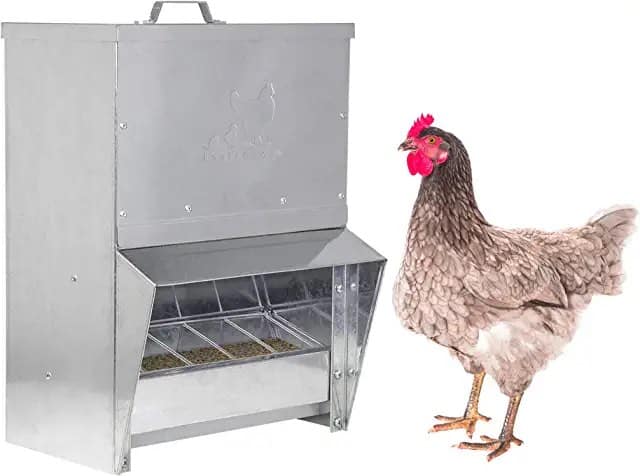 RentACoop automated feeder is another essential feeding gadget for chickens. Not only is it easy to use, but it can also withstand any inclement weather conditions as well as comes with a pest-proof cover to protect feeds from raccoons or other rodents.
It is also a more budget-friendly option than the Grandpa's automatic feeder we mentioned above. Therefore, this RentACoop equipment is the way to go if you want a more economical choice with superior features.
Pros of RentACoop Automatic Feeder
Weatherproof.
Included Rainguard.
Easy to use and clean.
Pest and rodents proof.
Cons of RentACoop Automatic Feeder
---
OverEZ Chicken Feeder – Holds 50 Pounds of Feed – Inside or Outside Hen Coop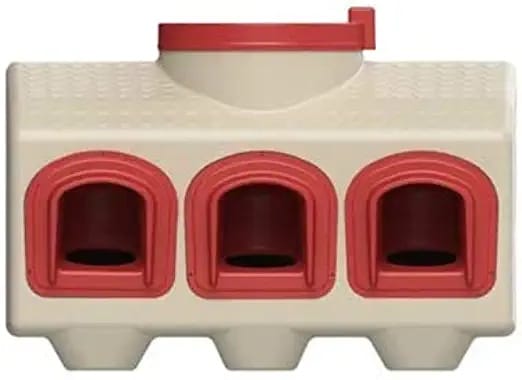 The extra-large feeding capacity of the OverEZ chicken feeder eliminates the need for periodic refilling. Generally, it is a good choice for people whose farms house a sizable flock. It functions as a feed dispenser for both indoor and outdoor use.
Additionally, this feeder for your chickens features an easy maintenance feature that makes it simple to operate and maintain.
Pros of OverEZ Chicken Feeder
Extra large feed storage.
Highly durable.
Easy to clean.
Cons of OverEZ Chicken Feeder
Sometimes the feed may not slide down smoothly.
---
Common Problems with Chicken Feeders
Even the best chicken feeders may occasionally encounter problems. So, here are some of the most typical issues with chicken feeders and their solutions!
Chickens are kicking over their feeders.

Solution: Move the feeders to a different location or attach them to something heavy so they can't be knocked over.


Chickens are spilling their food.

Solution: Try using a chicken feeder with a cover or placing the feeder in a tray to catch any spillage.


Chickens are pecking each other at the feeder.

Solution: Use a chicken feeder with multiple compartments, so each chicken has its own space to eat.


Chickens are getting their heads stuck in the feeder.

Solution: make sure the openings on your chicken feeder are big enough for your chickens' heads to fit through easily.


Moldy or spoiled food in the chicken feeder.

Solution: Clean your chicken feeders regularly and remember the feed's expiry date.
---
In Summary
The best feeding equipment for a farm is the chicken feeder. It is, in fact, a necessity for chickens regardless of whether you own a well-established poultry farm or a little backyard coop.
But the difficulty is choosing a suitable chicken feeder based on a farmer's need. Given the current market availability of automatic chicken feeders, owners don't appear to know which feeders' features are most effective.
Therefore, we have included three of the best chicken feeders in this article that are well acclaimed and rated by consumers for usage on any farm. We have also added tips on choosing the best chicken feeder for your needs.
Therefore, it's time to utilize those tips and get the best chicken feeder brands for your farm.
---
Frequently Asked Questions about Best Automatic Chicken Feeder
What type of chicken feeder is best?
It relies on your demands and preferences, to be exact. For example, a hanging poultry feeder is all you need if you own a few chickens on your backyard farm.

On the contrary, a hopper feeder may be a better option for larger flocks or if you want to add some automation to your chicken-feeding routine.
Is it better to hang a chicken feeder?
Yes, it is. Doing so will prevent constantly refilling the feeder from time to time, as then your chickens are less likely to spill their food. It means there will be less mess for you to clean up as well.
How do I choose a chicken feeder?
You should have the following considerations in mind while selecting the best chicken feeder for your poultry farm:

1. Consider the size of your flock. You'll need a feeder that can accommodate all of your chickens.
2. Consider the feed type you'll be using. For various types of feed, there are many feeder types.
3. Consider your budget. There are a variety of chicken feeders available at different price points.
4. Consider the location where you will be placing the feeder. You'll need to ensure the feeder is accessible to your chickens and that it won't be in the way.
5. Consider the features you want in a chicken feeder. Various feeders have different features, such as automatic fillers and waterers.
How big of a chicken feeder do I need?
There are many different sizes and designs of chicken feeders. So, choosing the right chicken feeder size requires you to consider the number of chickens and how often to feed them.

According to some experts, each chicken should have five cm of room in the feeder. So you may easily opt for a medium-sized chicken feeder to feed a larger flock. Just keep an eye on your feeder's capacity and refill it as needed.
Are automatic feeders suitable for chickens?
Of course, they are. Automatic feeders have now made the feeding process even more manageable. These nifty devices can cover a large feed capacity, offering a quick solution to keep your chickens fed. Remember to clean the feeder regularly to keep it in good working order.
Should chicken feeders run or coop?
Chicken feeders should be placed in runs more often rather than in coops. This is because chickens prefer it, providing them more space to move around.