Farm feed storage is a crucial aspect of keeping livestock and animal feed stocked for a long period of time. But that's not the only reason why you would want to store the feed.
When you keep your animal feeds out in the open, it allows some uninvited rodents and vermin to take them over.
They usually attack the feedstuff and leave it in ruins. So, it's essential to maintain a solid plan for storing feeds to protect the quality of the feed itself.
Feed storage comes in many forms, from bulk bins to silos to large metal silos. The proper kind will depend on how much animal feed you need to store. Besides, to store animal feed safely on a large scale, it's crucial to consider the type of container that best suits your needs.
With multiple DIY methods as well as ready-made purchase options, you can now easily keep your farm feeds safe and secure from rodents.
Here are our best recommendations for feed storage that you would definitely want to try out. Let's get started!
---
Why Sorting out Your Farm Feed Storage and Capacity Should Be a Priority?
The safety of all animals is essential, but the safety of animals that live on farms and need to be fed daily is paramount. If farm feed isn't stored in a proper container, it can attract pests, which leads to diseases spreading.
Feed relies on certain compounds to stay "fresh" and healthy for the animals. So, if exposed to the elements too long, those compounds deteriorate and lead to livestock's poor health.
Also, you will have to look out for the proper capacity while storing the farm feeds in containers.
Excessive feed stacked in a bin can eventually clog up the substances, damaging feed quality, reducing the nutrients for your animals.
---
Different Types of Farm Storage Feed Bins
Farm feed bins come in many shapes and sizes, from the classic corrugated galvanized steel bins to modern cyclone bin's hopper (or mini bins). You will just have to figure out which one compliments your needs best.
Essentially, we suggest a grain bin as your best solution if you want to store animal feed. They come in a perfect shape and cover full cubic feet capacities to contain a whole lot of feeds in it. There are, however, a plethora of different options to consider,
Small Feed Bins or Mini Bins
These smaller bins have a broad appeal. Horse owners use them to store feeding pellets, while farmers use them as small grain bins. They're also great for storing heating pellets.
These bands are airtight, which is the key to keeping out bugs and moisture. The seal is made from high-density polyethylene material with a UV inhibitor, and its design works best during the warm summer months. Both large and small slide valves mean that a variety of substances can be stored in these bins.
Metal Grain Bins
The metal grain bins have a long lifespan, reaching up to 20 years or more. The four-inches-wide corrugations keep the feed flow easily through an auger or chute.
The bins do not feature a ground control fill cap but roof panels that one can open and close with the included ground handle. Side ladders are available for easy access when filling the bin or cleaning it.
Hog Slat Metal Grain Bins
Hog Slat bulk feed bins are built with high-quality materials, which makes them last. They're also engineered to withstand even the toughest conditions and weather.
The Hog Slat's galvanized finish makes it stronger and more resistant to rusting than the industry standard G-90.
Poly Grain Bins
Large poly bulk feed bins that are translucent, corrosion-resistant, and help you store and manage grain materials will always be in-demand. These bins allow farmers to see the grain fill level at all times. They also make assembly easier than with standard metal bins.
Overall, poly bins are more cost-efficient and long-lasting than any other type of storage container.
Hopper Bins
Hopper bins are a convenient way to store large quantities of seeds and grains. The V-shaped form facilitates rapid access to seeds and grains.
Hopper bins also protect seeds and grains from weather-related problems like moisture, pests, and moisture, which can eat away at your supply.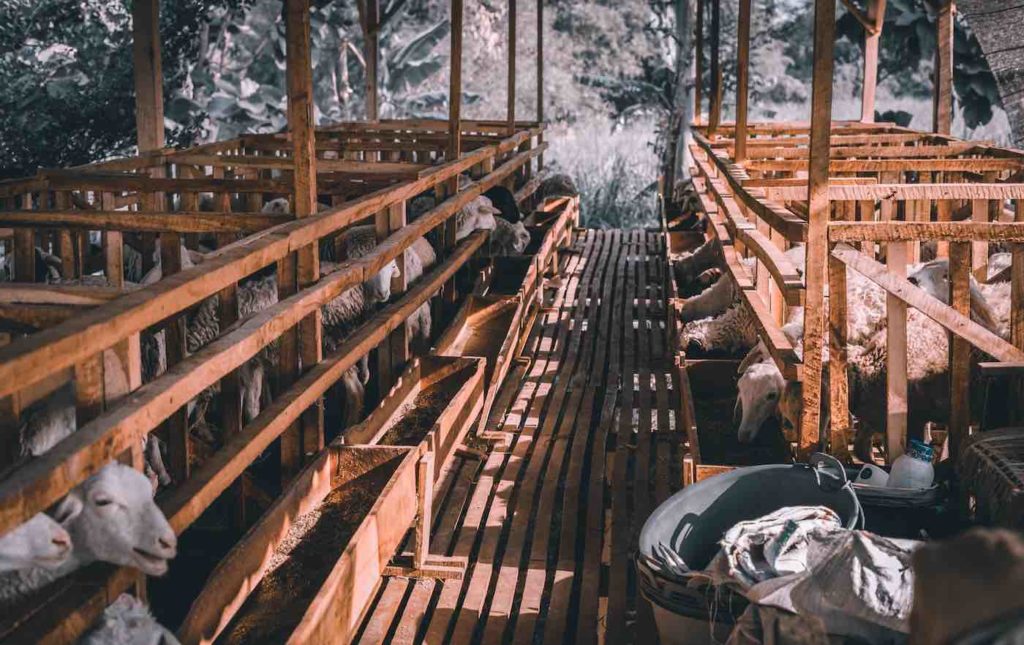 ---
DIY Feed Storage – Build Your Own Solution to Save Money
Here are some ways that people can build their own DIY grain storage solutions to save money in the long run.
Plastic Trashcans
Farm-based trash cans are an excellent way to store feedstocks and crops.
Unlike bulk feed bins that can cost thousands of dollars to purchase, your typical home trashcans are cheap and easy to clean, providing ample storage for free-flowing material.
These are also accessible in any weather condition, ensuring a higher quality crop at all times.
Plastic Totes
Plastic totes are very useful for storing feed products and keeping pests at bay.
Mice and other pests will not be able to chew through the walls of a heavy, sturdy tote.
These totes also offer a reasonable amount of protection against leaks and water damage, reducing the number of ruined products in the event of a flood.
Old Chest Freezers
Old chest freezers are also great DIY storage options for farm feeds. They can be used to store farm goods such as livestock food, ensuring that farm creatures have constant access to feed.
You can contact the local livestock customer service team for more information on the best grades of old chest freezers and about their bushels capacities.
Metal Drum Barrels
Steel drums are often found in industrial environments. They're ideal for storing and transporting bulk liquid or feed products that need to be kept at a specific temperature.
So, if you choose these metal drums to store farm feeds, it will work great without causing any damage to them.
Portable Grain Bins
Portable grain bins are a fantastic choice for DIY storage, especially when it comes to feedstock.
They allow you to keep an ample amount of feed on hand without sacrificing floor space from long-term storage.
Tack Boxes
Grain bins are reusable and will last for years, but they can be expensive.
For those saving money, a simple option is to purchase readymade tack boxes or some plywood to create one of them.
These boxes can be filled with feed or hay and covered over with another layer of plastic or plywood.
How do you make a feed box?
You can easily make a feed storage box with the help of plywood or cardboard.
If you have any of those stored in your home, you can utilize that. Otherwise, you can simply go to any hardware store, and they will be able to provide you with the necessary needs.
The task is to cut the plywood or cardboard into four pieces of the same size and join them together as a box.
You will need a ruler, a mini chainsaw, a hammer, and nails. To describe the process in brief, here's our step-by-step guideline:
Time needed: 1 hour and 30 minutes
A step-by-step guide to make a feed storage box
Start with plywood or cardboard

Place the plywood or cardboard on a table. 

Create the rectangle-shaped boards and lid

Take the ruler and mark the points in a rectangle shape. Cut that out and then repeat the process for cutting the same sizes of boards. There will be five pieces of rectangle-shaped boards in the end. The extra one is for the lid.

Create the box

Place one board on top of another on the corner side, then pin that down on both sides with nails. Do that for the other two sides. Once you are complete, it will form a good rectangular box shape. 

Add the lid

Finally, you can just place the lid above the box and use hardware tools to allow the lid to be portable in terms of closing and opening. 
Frequently Asked Question – Farm Feed Storage
How do you store farm feed?
Farm feed requires proper ventilation as well as a complete shaded area to be stored correctly. When stored under the sunrays, the sunlight absorbs all the essential nutrients and reduces the feed's overall quality. 

Also, make sure not to forget to store the feed in a metal or plastic container. You need to close the bin lid tightly to prevent moisture from draining it inside. However, avoid air-tightened bins as there will be less ventilation inside, another reason for the feed's quality reduction. 
How do you store livestock feed in bulk?
You can use bulk bins in case of storing bulk livestock feed. Just as you would process the farm feed storage for daily use, you can store livestock feed in bulk the same way. You will only have to be mindful of the placement. 

Be sure to keep the bulk bins or stored palette above the ground on a shelf. You can also keep it aside on concrete floors where sun rays can't reach. However, keep the floor or the shelf clean all the time; otherwise, clogged-up dirt can get inside the bins as moistness. 
How do you store cattle feed?
Keep your cattle feed stored in a palette or metal bins with proper ventilation. Avoid keeping the bin in contact with the sunlight. It will reduce the overall quality of the feed. 
How much do feed bins cost?
Feed bin prices vary depending on the sizes and the wholesale or retail price. For the wholesale price, you will have to pay around $300 to $1000. On the other hand, retail prices for feed bins vary from $30 to $300, depending on the bin sizes.