Farm supplies such as fertilizer spreaders play a crucial role in the even distribution of fertilizers, seeds, and herbicides on fields, lawns, and beds.
With two main varieties, drop spreaders and broadcast/rotary spreaders, these versatile tools are not only beneficial for farm-related tasks but also help minimize direct contact with fertilizers and chemicals.
Whether you're aiming for uniform fertilization or efficient seeding, a fertilizer spreader is an indispensable tool in your arsenal of farm supplies.
---
Elements of a fertilizer spreader
There are four essential elements in a spreader, namely:
Hopper
This element lowers the fertilizer machine's center of gravity and assists in releasing the fertilizer.
Distribution
It refers to the rotating discs or oscillating tubes from which the fertilizer falls from the hopper.
The distribution is operated using a hydraulic motor or the tractor's power take-off (PTO) stub.
Dispenser
The dispenser determines the amount of fertilizer supplied from the hopper to provide the ideal quantity.
Drive
These are driven through a tractor wheel, the two wheels of the machine, or the PTO.
---
---
Different types of fertilizer spreaders
There are two kinds of spreaders you can use to distribute fertilizers or grass seeds over your field:
Drop spreader
A drop spreader is used to meter out fertilizer directly on the lawn. It spreads fertilizer at a consistent speed and direction.
A drop spreader is preferred if you have a lawn with MANY obstacles, such as plant beds.
The product distribution with this type also isn't affected by the wind, so fewer fertilizers end up cluttering roads or driveways.
A drop spreader is best if:
You have a small yard or garden (under 5,000 sq. feet)
You want accurate coverage
However, there are disadvantages to using this fertilizer spreader. It takes more time to cover an area, and it can be difficult to find spreader tracks.
Broadcast spreader
Also known as a rotary spreader, this spreader distributes products in different directions in a fan-like pattern.
It covers larger areas at a faster distribution rate. It's great for large yards with lesser obstacles.
Broadcast spreaders also have greater hopper capacity, which means fewer refills per usage. The walking rate is important because it impacts the product's distribution.
Choose a broadcast spreader if:
You have a large lawn
You want more efficient distribution
You have no garden in the middle of your yard
One drawback is it distributes products in unwanted spaces, which can be a concern if you use chemicals like pesticides.
What size fertilizer spreader do I need?
Getting the right spreader can prevent you from over-fertilizing your soil or crops and ensure that they get the necessary nutrients.
You must look for a spreader with the appropriate spreader width to match the coverage area.
| Lot size | Spreader Width |
| --- | --- |
| Small Lawns (1,500 sq. feet or less) | Small Lawns – 1 to 7 feet |
| Medium Lawns (5,000 ft2 or less) | Medium Lawns – 8 to 12 feet |
| Large Lawns (15,000 ft2 or less) | Large Lawns – 15 feet to 20 feet |
| Lawns with lots of landscaping | Lawns with lots of landscaping – 6 feet |
Guide showcasing lot size vs. needed spreader width on your fertilizer spreader.
---
The 5 Best Fertilizer Spreaders for Smaller Farms and Homesteads
Thankfully, you don't need heavy machines. Let's look at the best spreaders for small yards and homesteads. These are especially important if you've just gotten started with your homestead.
---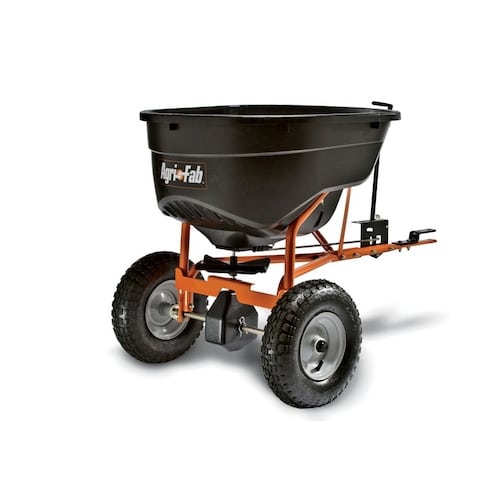 The Agri-fab 45-0463 fertilizer spreader is a high-capacity tool capable of broadcast spreading a variety of products for smaller yards.
Even weak tractors can tow it while maintaining enough fertilizer without having to refill.
Unlike other products, it's equipped with pneumatic tires for better cushioning and traction.
Hitch it behind your tractor and watch it cover up your yard fast with its 12 ft. spread width.
What's great about this fertilizer spreader is the accessible control system you can modulate right from the tractor seat.
It's the best tow-behind spreader for small farms and yards!
Pros of Agri-Fab 45-0463
Great capacity
Fast distribution
Accessible control settings
Durable
---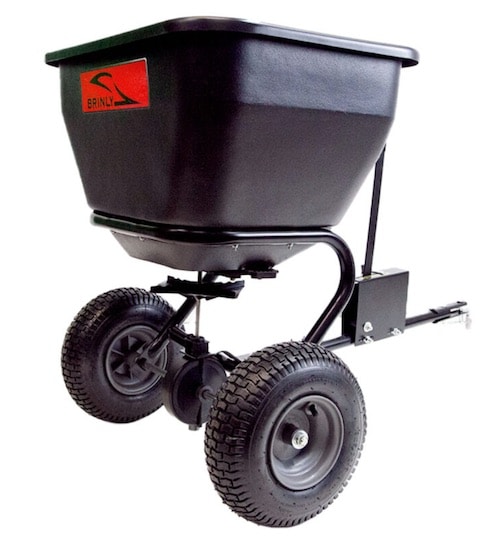 This Brinly 175lb BS36BH is a robust spreader that you can use for spreading fertilizer over one acre of land.
Its 175 lbs. capacity saves you time on refilling, making it the perfect solution for small farms or larger yards.
With Autoflow technology, the spreader automatically stops when you stop your tractor, saving on material and gas.
However, this Brinly spreader is disproportionately heavy on top, which can be challenging to maneuver on uneven ground.
Pros of Brinly 175lb BS36BH
High-capacity
Multipurpose
Ideal for large yards
Cons of Brinly 175lb BS36BH
---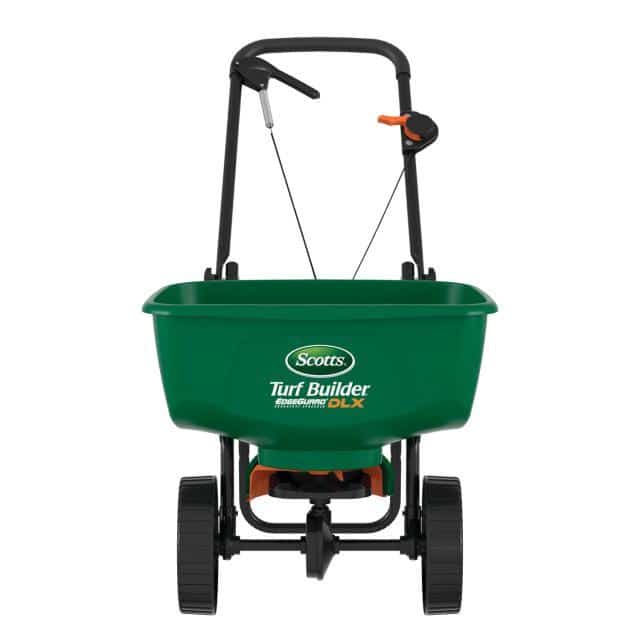 If you want to fertilize an open ground with the precision of a drop spreader, you can check out Scotts EdgeGuard DLX Spreader.
It has an edge-blocking technology that keeps products off places such as sidewalks or driveways, which means less waste to clean up.
This unit has a large hopper capacity that can carry up to 15,000 sq. feet of product for a broader working width.
It also has a precision dial system that allows for ACCURATE coverage. It has 15 settings that can work with other products, not just Scotts fertilizer.
Pros of Scotts EdgeGuard DLX
Easy storage
Edge Guard technology for precise coverage
Large capacity
Cons of Scotts EdgeGuard DLX
---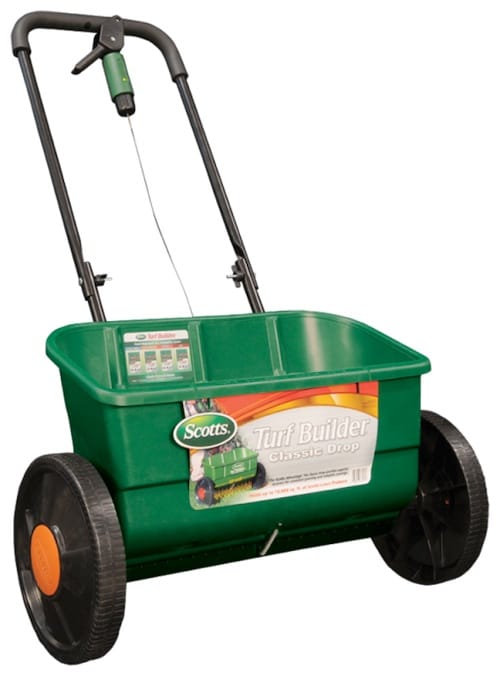 This Scotts classic may be easy to use, but it can hold up to 10,000 sq. feet of material.
It gives maximum even coverage with a 22″ drop rate. It has a lower weight than other spreaders on this list, so you won't have any trouble lugging it around.
This manure spreader has a sturdy build that will last you and your small yard several years.
Pros of Scotts Classic Drop Spreader
Inexpensive manure spreader
Easy-to-use
Durable
Cons of Scotts Classic Drop Spreader
Not for commercial applications
---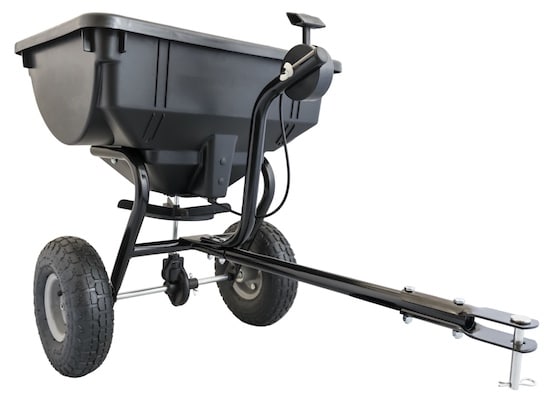 If you're looking for a unit that gives great value for its price, this Agri-Fab 45-0530 might be for you.
It comes with a smaller hopper that's more suited for LOW-CAPACITY dispersal.
You can regulate the flow from your seat with its reachable cable flow control. It's a compact machinery that only weighs around 17 lbs. for easy storage.
Pros of Agri-Fab 45-0530
Budget-friendly
Easy to store
Long-lasting
---
Conclusion
When choosing among the array of spreaders on the market, knowing your yard size is essential to finding the right tool for your needs.
Make sure to invest in high-quality spreaders that can give you a beautiful lawn or farm yard for many years.
---
FAQ – Fertilizer spreader for farm and homestead
Let's check out some related questions people ask about fertilizer spreaders.
What is the best small farm fertilizer spreader?
The best fertilizer spreader would depend on the size of your farm lot. We recommend the Brinly BS36BH Tow Behind, a high-capacity machine that works with any light agricultural operation.
Can you spread fertilizer with a seed spreader?
Yes, you can use spreaders to spread other products like seeds, ice melt, or rock salt. However, it's NOT advisable to mix and spread them simultaneously.
What size spreader do I need?
Spreaders have working widths that determine how much area they can reach per usage. If you know the size of the area you're treating, you can choose the appropriate tool that can reach that scope. Read the size guide in this post to know the size you need!
Which is better: drop or rotary spreader?
A drop spreader is ideal if you have a small yard, while a rotary spreader is better if you have a large lot.
Is a broadcast spreader the same as a rotary spreader?
Yes, they're the same thing.
What do numbers mean on fertilizer spreader?
The numbers on spreaders are the different application rates over a specific amount of square footage. The calibration depends on the size of the granules you're spreading.